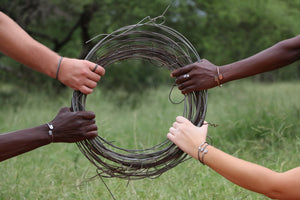 Snare Wire Jewellery
Wear handcrafted snare wire jewellery and make a stand against extinction.
SHOP NOW
---
Shop from our classic range of Explorers Against Extinction branded merchandise
---
Why Shop?
With your support we've been able to fund a range of projects from Zimbabwe to Indonesia. All profit from the sale of products goes to our Project Fund. Just £25 funds boots for a ranger and £50 pays for a conservation canine to have a check-up at the vet. However big or small your purchase, by working together we are making a difference. 
Clearing snares in Zambia

Caring for orphaned elephants in Kenya

Providing essential kit for forest rangers in Sumatra

Planting trees for orangutans in Indonesia
Clearing snares in Zambia
Freeing bears in Vietnam
Moving Giraffe in Uganda
Caring for orphaned elephants in Kenya
Providing essential kit for forest rangers in Sumatra
Planting trees for orangutans in Indonesia
---
Cards, Prints & Calendars